09 Feb, 2017
Video in marketing streams is hitting an all time high. Are you embracing it? If not, this is the time to jump on the bandwagon
We've all heard that saying 'a picture can tell a thousand words', well how about a video? The rise of video in mainstream marketing channels has been prolific over the last few years, moving from an expensive premium to a smartphone led necessity. But just how important is utilising video in your social media and marketing planning for 2017?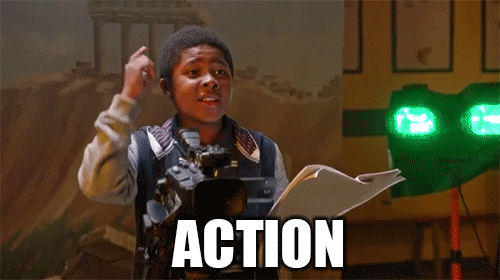 Image Via Giphy

'Essential', is the quick answer to the above question. If you and your brand are yet to embrace the world of video for your social channels then now is the time to do so. Creating eye-catching content can be outsourced or even done in house with the aid of a good camera or smartphone and can massively amplify your social media reach.
With Facebook having a daily active user base of over 1.17 billion, the chances of spreading your brands messages could be vast. However, with such a broad spectrum of users, your messaging could easily go completely un-noticed. I'm sure we've all been there before.
Utilising video for your social channels can help you stand out from the crowd, or at least look just like the crowd, as this trend continues to grow worldwide with video becoming the mainstay of user's social timelines.
With today's users only spending an average of 20 minutes on Facebook in a visit, quick and easy videos have become the norm for catching and keeping users attention. But be careful how you approach your new video led strategy.
Firstly, it's important to figure out what you want out of your new social video campaigns. Are you looking for engagement to help build brand loyalty, or are you simply looking for something catchy to generate click-throughs to your company's website? Either way, it's imperative that your campaign is thought through fully. For instance if you think your campaign has to be audio led, you might want to think again! A staggering 85% of videos viewed on Facebook are watched without sound. The smartphone generation doesn't care much for the talking head. So with this in mind there needs to be a solid thought process behind video content creation, to allow for engaging and insightful videos, with or without sound.
Make sure 2017 is the year your brand catches up with the curve and embraces social media video, if you needed any further encouragement then look no further than this fantastic study by the brilliant folks at Hubspot which outlines some very interesting statistics. These include the fact that 92% of users on mobile share videos and 64% of users are more likely to buy from a brand after watching a brands video. Interesting stuff!
We'd love to hear your thoughts on this post. So make sure you leave a comment below if you'd like to discuss anything on the video front
And if you're keen to look to develop your social media strategy, or implement some fresh new thinking that includes video make sure you contact us now.